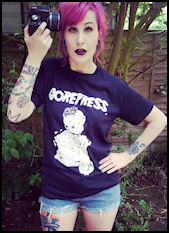 Sarah Law
Originally from Manchester but now living in Kent, Sarah enjoys collecting tattoos, being really bad at gaming, mediocre at photography and awesome at baking. She makes and sells jewellery to pay the bills and writes for, and helps to maintain Gorepress for fun. Co-host of the Gorepress Gorecast and Gorementary, she gets her kicks from watching films that feature death and dismemberment, roaming hordes of the undead, disgusting body horror and sadistic serial murderers but not necessarily all at the same time. Although that would be amazing.
Jamie Carruthers
Jamie got into horror at a very young age, some might say too young, due to his Uncle's ghost stories. The rest, as they say, is history. Currently based in the North West, he plays loud, enthusiastic hardcore rock in a band called Throwing Stuff. Known to some for his now infamous blog Let's Get Dangerous and acting as host to the Gorepress Gorecast, in addition to contributing to other sites and publications, Jamie is usually found watching a movie, sweating on a stage or cleaning up an infant's poo
Scullion
Born in Romford and graduating to somewhere better, Scullion has dabbled in many jobs including postman, theatre administrator, kid's camp leader and HMV supervisor, but throughout this he has remained an adamant fan of all things horror. Apart from Eli Roth. He can sod off. He is now a project coordinator at a DVD editing & authoring facility in West London and occasionally plays with writing, acting and filming things. Part Scottish, part Geordie and part Essex, Scullion has been experimenting in genetic removal surgery for years, but has so far only created an army of zombie badgers. You have been warned.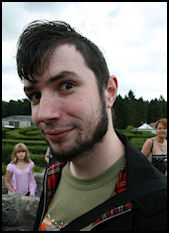 Matt Arnold
Leaving his hometown of Bognor Regis for the more idyllic climes of Kent, via Manchester, Matt has spent the majority of his adult life indulging in various entrepreneurial schemes so as not to succumb to a life of 9-5 banality. A jack of all trades but master of none, he holds degrees in Biochemistry and Forensic Science but has yet to explore a career in either. A firm advocate of the horror genre, Matt designed, built and helps to maintain Gorepress, watching as many horror movies as his spare time will allow.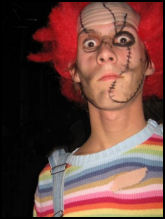 Phil Taberner
Born in Derby but raised in the swampy marshlands of the East Anglian fens, Phil was terrified of almost everything as a kid. 'But Phil!' I hear you cry, 'what sort of an outlook is that for a horror fan?' And you'd be correct. Fortunately however, Phil moved over to the dark side some time in his mid-teens and has never looked back. Enjoying a range of hugely dorky pastimes including cinephilia, gaming and drawing, Phil has now graduated from the University of Lincoln with a BA in Media Production and thus has a lifetime of 'Do you want fries with that?' to look forward to.
Nicola Jones
A media graduate who has held down every job from charity funder to David Gray's roadie. Between two older brothers, Nicola was bounced from Hellraiser to Gremlins before she had finished primary school, and at the age of seven she was plonked in front of a games console and hasn't seemed to move since. With a self-proclaimed devotion to horror videogames, you could probably toss her a copy of Left 4 Dead for Valentine's day and she'd be happy. Oh yes - that actually happened.
Ben Gonsalves
Born and bred in the garden of England, Ben's first jaunt into the world of horror began with being shown Stephen King's 'IT' at the tender age of seven. This monumental life event unearthed two discoveries: A love of all things horror, and a crippling fear of clowns; one that stays with him to this day. A lifelong interest in all things monster related, this bore fruit when he graduated from the University of Kent with a BA and MA in History and Archaeology; his thesis entitled 'From Beowulf, to Buffy, and Beyond: The Evolution of the Medieval Monster'. Has a mild addiction to zombies. Has a major addiction to candy corn.
Andi Wilson
Currently living in Manchester, Andi has been a fan of B Movies ever since being introduced to them via Mystery Science Theater 3000 as a youngster. When not watching low budget movies or four hour documentaries about Japanese war atrocities with his generously chinned flatmate, he can be found playing bass for Manchester punk rock losers Leagues Apart and frequenting far too many Mexican eateries for his own good. You can also find Andi on the Sour Grapes Podcast and trawling through the IMDB bottom 100 on the Let's Get Dangerous Podcast.
Matt Blythe
Matt grew up reading James Herbert, Shaun Hutson and Brian Lumley. He progressed to watching many, many horror videos round a mates (Rawhead Rex and C.H.U.D. will always make him think of nights round Mike's). He then found games, and their succubus lure drew him in. Of course his worlds collided. He is a game head. He is a film head. He is a geek. He is also a bit of a horror fan. Are you really surprised that he is drawn to horror games? Who doesn't love whipping out a sawn off and shooting a zombie in the face! There is, of course, more to him than this... But do you really care?
James Simpson
Stuck in north east England, James became a fan of horror aged 5 when he would stand and look at the back of horror movie VHS boxes at the local video rental shop. He, worryingly, thought Freddy Krueger was cool. Having fulfilled a dream by graduating with a 2:1 Hons BA in English Studies in 2012, at the tender age of 28, he figured he should do 'something with words' and hence his journey here began. He wishes he had done it sooner. The Elm Street & Hellraiser franchises are his vices. Video Nasties too.
Liam Crosbie
Liam was born and raised in North East Wales and from an early age was already well on his way to knowing Alien better than the Star Wars movies. Attending Yale College and the University of Chester, Liam studied film and filmmaking every step of the way before winning a scholarship to the Vancouver Film School where he became a screenwriter. Now living in London, Liam was even the "voice of god" at a prominent west end cinema, working premieres all the while being a freelance screenwriter and story editor. Other than being a regular cinephile, Liam enjoys graphic novels, video games, exotic food and old book shops.
Mark Ryan
Beetlejuice, Goosebumps & Vincent Price, the 3 things every child is raised on right? No? Oh well, this was Marks first introductions to the world of horror and just fueled an obsession currently 25 years in the making Living in Wiltshire with his fiance & 11 pets, he harbors an unhealthy addiction to HP Lovecraft, Re-Animator and badly made fake blood.
Joey Keogh
After being raised on the mean streets of Dublin, Joey moved to the sleepy, seaside town of Bray, Co. Wicklow, where she divides her time between watching horror, writing, and freaking out the locals. After earning an honours degree in journalism, Joey sold her soul to the gods of marketing, in order to earn a living and fund her addiction to band merch. Writing is her true passion, and she must do it constantly, or else her head will explode. An unashamed slasher fanatic, when not watching the cheesiest horror movies she can find, Joey blogs under the pseudonym Living Dead Girl, attends far too many gigs, gets inked and never shuts up. She is currently waiting patiently for her hero, Mark Kermode, to adopt her.
Chris Eibes
Chris started reading the TV Guide at the age of 5 or 6, and very quickly realised that the most interesting bits were the films scheduled late at night. Two of the horror film stills he saw were pictures from "IT" and "Nightmare on Elm Street". He was as frightened by the faces of Pennywise and Freddy Krueger as he was intrigued about the films, and it wasn't long after that Chris saw his first horror film; "Halloween". He was hooked and this was the beginning of his love affair with horror films, as well as a lifelong fear of Michael Myers! More than 10 years later, Chris is still fascinated by horror, especially low budget films. He is currently studying film at the moment and hopes that one day soon he will not only be reviewing horror films but also shooting his own. Watch this space!
Mark Pidgeon
A 29 year old Horror fan from the north east of England, Mark has a taste for the gore, Giallo and Japanese horror with a slight obsession with Battle Royale, Vinyl Soundtracks/Scores and Comics. He loved horror from an early age which started, as with many, discovering the video nasties and devouring as many of them as he could at an age which was far too inappropriate to be doing so. H.P Lovecraft and working in a video retail store for years (MVC sadly gone) opened his eyes to the weird world of cult horror and he hasn't looked back since.
Richard Waters
20-something-or-other and Irish (Wicklow, to be precise), Richard is a feature filmmaker and lifelong horror fanatic, ever since thinking Poltergeist 3 was scary (thankfully he has grown up since then, but not much). In between spouting three times the amount of babble a normal person should use, Richard spends his time assuring family and friends that his passion for intense gore and terror is ok. Instead of backing away slowly, they should remember, it's only a movie… only a movie… Check out more incoherent ramblings at This Horror Is Your Face (richmwaters.blogspot.com)